This two storey semi-detached house with an additional single storey brick extension was suffering from building movement, evident in stepped cracking to the rear right hand corner of the property caused by the escape of water from the water main. Although the water main was subsequently repaired, readings from the installed monitoring studs indicated that further building movement was occurring and a specification was therefore put together by loss adjusters for traditional mass filled underpinning and crack stitching to restore the property's structural integrity.
As an alternative to the original specification, St Astier proposed the use of an alternative method – the installation of mini piles to stabilise the gable wall and single storey extension with considerably less disruption and invasive dismantling work than traditional underpinning methods.
The chosen system consisted of the installation of 15 ShireStabilisers to the gable and rear extension of the property as well as the formation of masonry beams to evenly distribute the load to the piles below and provide additional lateral restraint. Associated works included the provision of intermediate crack stitches.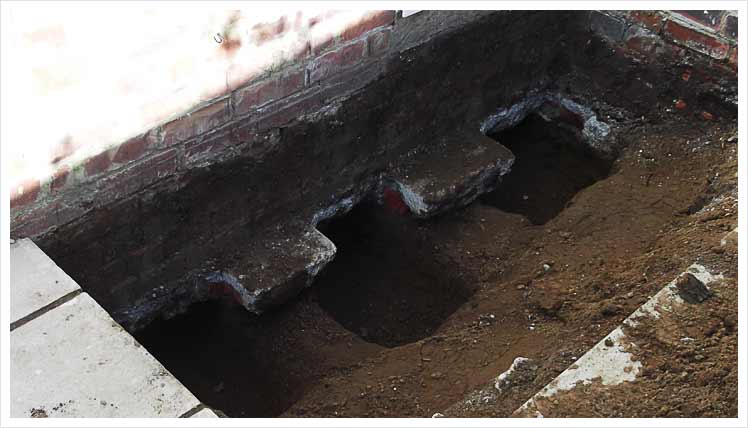 The foundation toe is cut-off to ensure that piles are positioned as closely as possible to the building.
The installation of the pile and beam system required the existing foundation to be exposed and a suitably sized pocket to be formed for subsequent ShirePile installation. The system was particularly appropriate in these circumstances as access to the rear of the property was relatively restricted.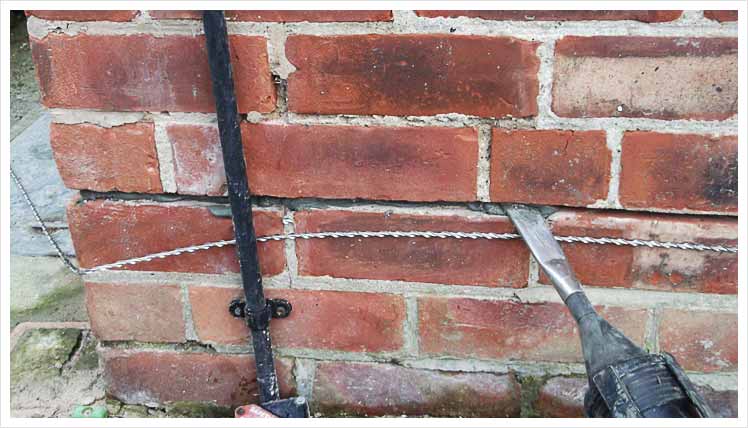 Slots are cut into the bed joints using wall-chasers with vacuum attachments. 6mm pairs of helical bar masonry reinforcement are fixed into position using thixotropic grout to form masonry beams.
Helical piles were driven in at the target drive speed of 140mm per 100 seconds using hand-held equipment.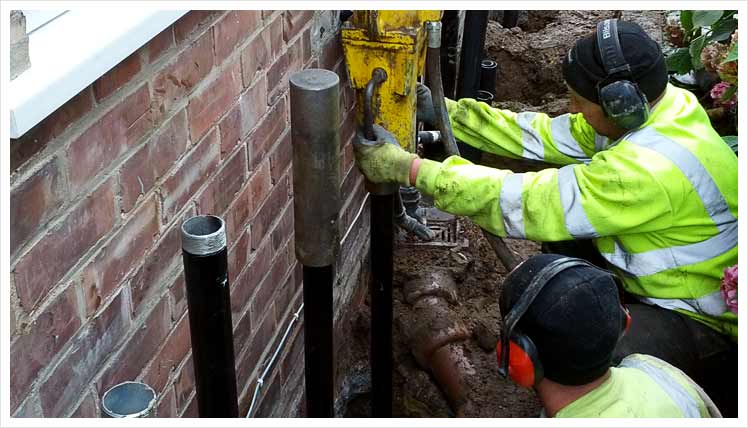 After installation of the fin shaped lead section which provides suitable friction with the surrounding soil, extension tubes are fitted. Operatives add test marks to each unit at 100mm intervals to facilitate the measurement of drive speeds with the aid of a stopwatch.
Dependent upon its position (to support the extension or two storey flank wall) each pile was calculated to carry a design load of 44kN or 65kN.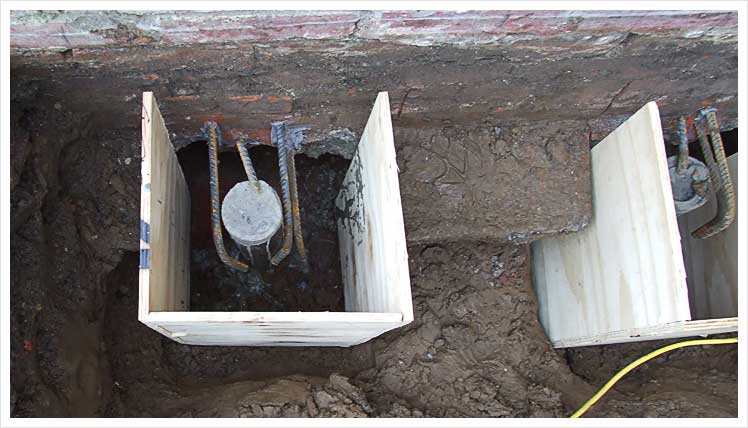 Steel reinforcement is introduced to connect the piles to the structure. Non shrink grout is poured into the reinforced pile. Concrete pile caps are then cast and toed under the existing foundation.
In total, the operation took 5 days to complete with the paths being fully reinstated upon completion. The majority of work was carried out from outside the property, significantly minimising disruption to the residents as a result.