Like many non-traditional house types designed to quickly address the post-war housing shortage, the Orlit property type is susceptible to deterioration at construction joints and junctions between components, resulting in deterioration of the building's structural effectiveness. As the City of York's preferred specialist structural repair contractor, St Astier was asked to undertake structural repairs to 95 of its Orlit housing stock following a detailed survey.
Works were planned to address structural cracking, corrosion and damage to the properties which was particularly evident to the concrete centre/corner posts where an inadequate fixing detail offered only limited support thus compromising lateral restraint. Added to this, the fixings were found to be ferrous and a process of corrosion and expansion had caused the corner units to be pushed apart.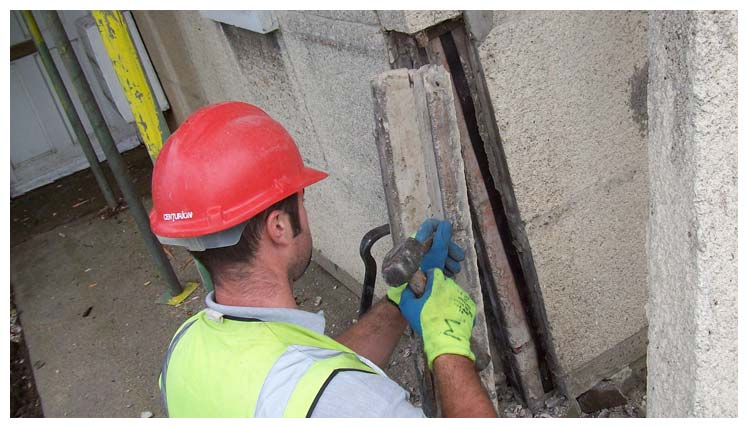 A repair is effected to an existing corner block before being refitted with the revised bracket.
In some instances it was determined that insitu repairs could be effected to save the corner posts but in many cases they were too badly damaged to ensure that long term repairs would be effective. With this in mind, a proposal was made for a bespoke stainless steel bracket designed by St Astier that would provide enhanced support for newly cast concrete posts.
With the approval of the city council, precast corner blocks were manufactured in-house by St Astier with stainless steel reinforcement chosen for greater longevity. 48 hours after manufacture, the shuttering encasing the concrete corner units were removed and a tactile rough-cast finish was applied to closely match the original host material then allowed to cure prior to on-site assembly.
Once on site, each individual block forming the corner or middle section along with its defective ferrous fixings was carefully removed in sequence and the newly designed stainless steel fixings were anchored into position to the back of the block and face of the structural column with an epoxy resin before the new post was secured. Vertical joints at both sides were then pointed up.
Chimney Block Repairs
At high level, the semi-detached properties have chimneys which are physically joined by reinforced concrete caps which were found to be defective. The preferred option was to take down the chimney stacks in their entirety but due to planning issues and with consideration given to the future use of the flues, this was discounted. The option to take the stacks down to the roof line in order to remove and replace the cracked blocks was also put aside due to a number of practical concerns and budgetary constraints. Instead, a system of restraint was adopted whereby the chimneys were reduced in height and any cracks were injected with a thixotropic resin. A stainless steel angle was fitted to each corner and a series of straps provided around the entire perimeter to improve lateral restraint.
An unstable chimney is reduced in height then braced using stainless steel angles, before being tightened with straps to provide lateral restraint.
Finally, a recommendation was made to apply an exterior sol silicate paint system to the surface of the concrete to improve the visual aspect of the structures and prolong its lifespan.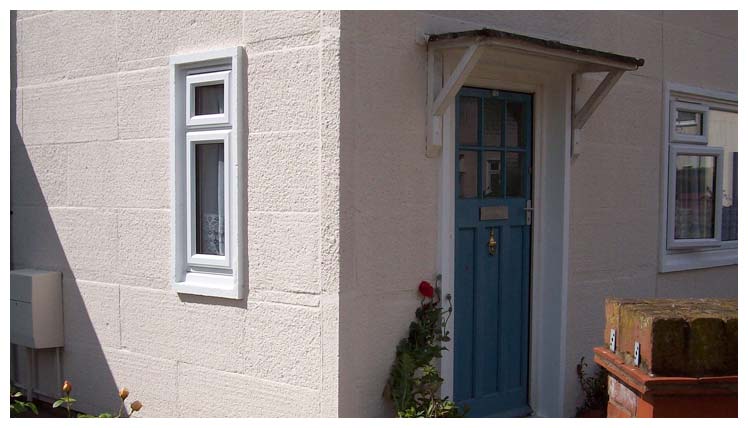 Following the completion of concrete repairs, a sol silicate paint system is applied to enhance the appearance and offer protective benefits to the concrete.