St Astier was approached by East Durham Homes via Keepmoat to address defective concrete door canopies located on various properties at Henry Street, Seaham. The double canopies are located above the front doors which are used as the main access and egress into the dwellings. From an initial inspection, there was evidence that the canopies had begun to fail and it was therefore possible that sections of concrete could become detached and pose a hazard to occupiers and visitors to the properties.
The deflection of the projection to the boot lintel not only caused cracking in the concrete but rotational stresses to the brickwork, resulting in further cracking in the masonry.
A detail was put forward by the client in order to support and repair the existing canopies without the need for any major invasive dismantling works involving decanting occupants. The plan was to install additional support prior to the commencement of works using a horizontal masonry beam into the brickwork above the canopy and vertical ties installed through the soffit of the canopy up into the external leaf of brickwork tying the structure together. Once the masonry above the canopy was stabilised the repair works to the concrete could begin.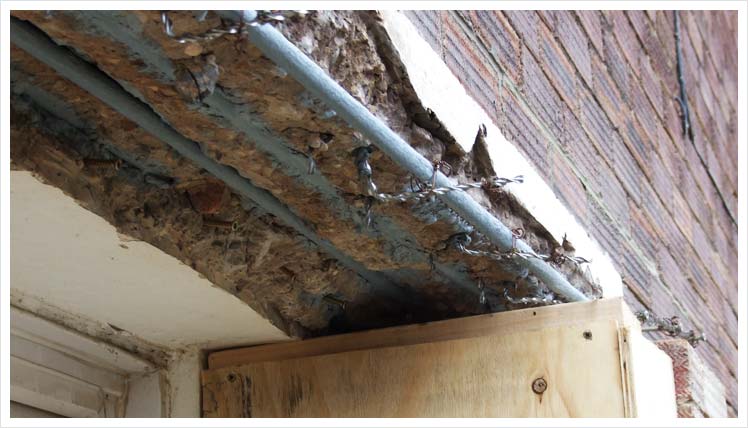 Additional steel reinforcement was introduced to replace severely corroded rebar.
The full extent of reinforcement corrosion was revealed as breaking-out works progressed with most of the soffit and nib of the canopies having to be replaced. The steel reinforcement was fully exposed and cleaned beyond its corroded length before two coats of a zinc based steel reinforcement protection coating was applied. Given the extent of the concrete failure, poured repairs were undertaken as opposed to the original hand placed option.
Once sufficiently cured, holes were diamond drilled horizontally into the newly poured canopy and bricks were removed from each pillar and later pieced back in to allow for the installation of a galvanised angle to provide additional support.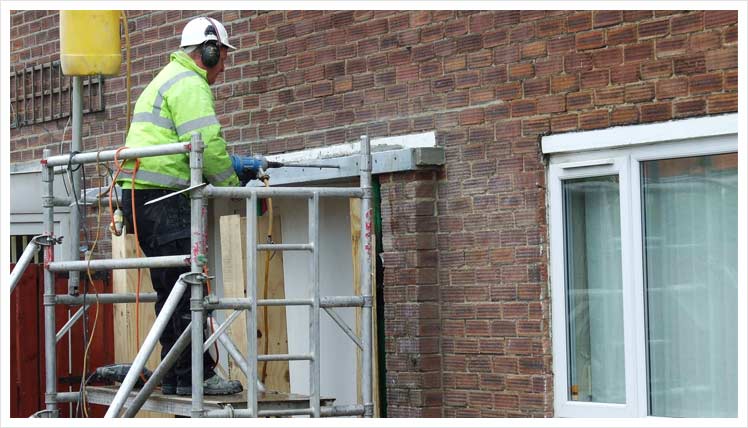 A diamond tipped drill was used to limit vibration whilst forming 700mm cores in the canopies for the horizontal studding.
Plate bonding resin was applied to the rear of the angle prior to final positioning and once in position, galvanised studding was inserted through the predrilled holes in the angle into the previously drilled concrete.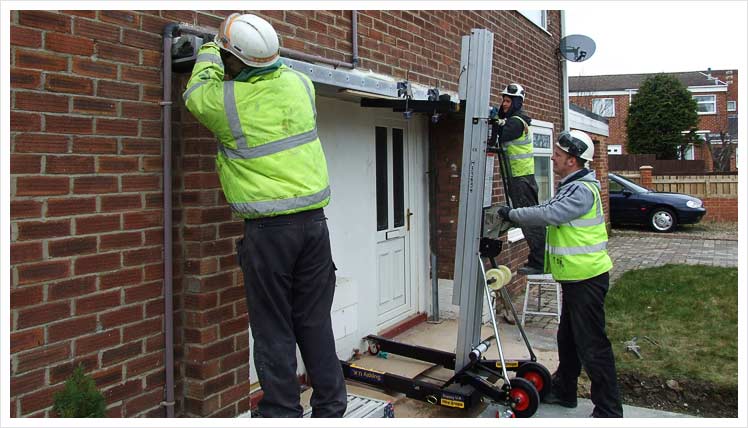 The angle is offered up to the front edge of the canopy and located in its final resting position.
With all of the components in place, a timber fascia plate was fitted and the entire assembly was capped with uPVC trim.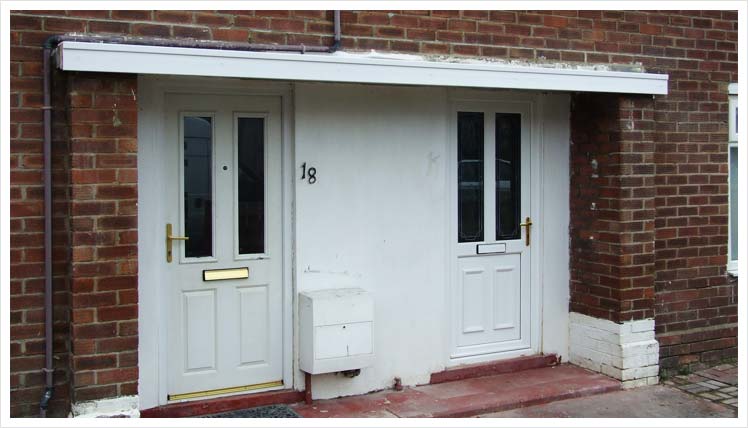 With UpvC trim in place, works are to be completed with the installation of a lead substitute flashing to prevent any further water ingress.