In 1857, after completing the construction of the Durham railway, William Lloyd Wharton opened Wharton Park on the land to its north. Wharton was the Director of the North Eastern Railway and built a mock castle, later known as the Battery when a Crimean War Sebastopol gun was moved there, in the park for visitors to overlook the railway and city of Durham.
Although still owned by Wharton, the park was used to host many public events, including a balloon ride in 1860 which attracted a crowd of over 4000 people, various sporting events in which people would travel from across the country by the railway, and was the site of the first Miners' Gala in 1871. Today, the park occupies 4.3 hectares of land within the Durham City Conservation Area and a Heritage Lottery and Big Lottery Fund grant of £2.45m in January 2014 enabled restoration works to commence.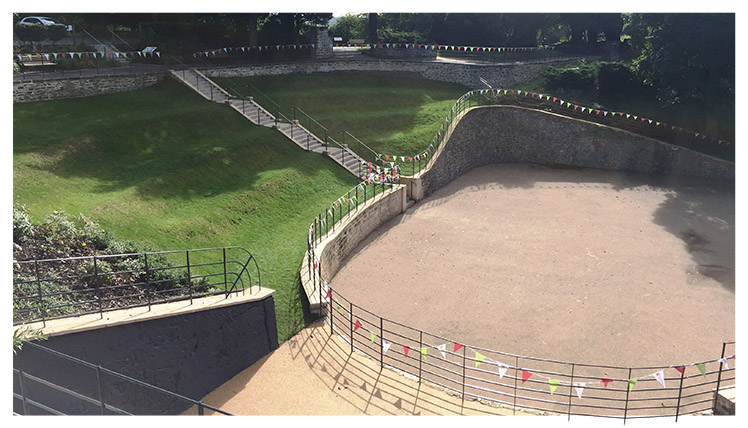 The works were divided into three main elements. Firstly, restoration and repair works were carried out to the Grade II listed Battery. The works included carrying out conventional underpinning to the existing structure to prevent any further damage due to subsidence and the subsequent repair of existing cracks with the installation of stainless steel ties, the removal and rebuild of leaning castellations and finally the removal and replacement of cementitious repairs and pointing with a more sympathetic hydraulic lime based mortar, more in keeping with the original.
Secondly, stabilisation to the site wide retaining walls was carried out. This included the dismantling of sections of existing wall, installation of a reinforced concrete ring beam secured to the steep banksides with "Duckbill" Ground Anchors and the rebuild of the walls back to match the original profile. Where it was deemed that certain walls did not require stabilisation then re-pointing works were carried out again with the Hydraulic Lime based mortar.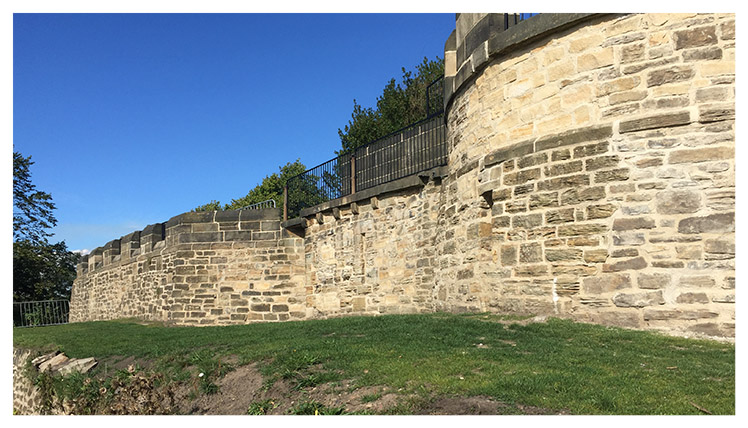 Thirdly, the existing staircases and access staircases were lifted throughout the park and new concrete foundations installed. The existing stone treads were inspected and new locations for re-usable steps were identified and re-used on the upper and lower MUGA staircases. For the other areas, new local sandstone components including pillars, treads, and coping stones were detailed, manufactured, and brought to site and installed on the new concrete foundations. New Stone was used on the Amphitheatre, North Road, and the Events Arena staircases.